NAVIGATE TO:
Elham Malik '22 is the same age as incoming freshmen; Doremus Bennerman '22 made a promise to his mother 28 years ago. Hundreds of Saints in their early 20s crossed the Commencement stage on May 15, but the local media spotlighted the youngest and the oldest.
Malik finished her psychology degree in just three years and graduated with cum laude honors. She served as president of the Muslim Student Association and recently co-emceed the annual Scholarship and Endowed Programs Appreciation Dinner. Her accomplishments and merit are extraordinary, but it's her age that really got News10 ABC's attention (above).
On June 30, Malik will celebrate her 18th birthday. In May, she became the youngest Siena alumnus in College history. And when asked by reporter Harrison Grubb what that history-making accomplishment felt like, she said...
"Kind of overwhelming, but I'm really, really excited."
She's excited to graduate, but not excited to leave Siena. So, she won't. Malik will remain on campus for one more year as an AmeriCorps VISTA fellow.
"I grew up doing a lot of direct services, volunteering at soup kitchens, and Siena gave me a whole new perspective and understanding of it."
NewsChannel 13 also covered Malik's accomplishment. The Times Union posted a Siena College graduation SEEN gallery. The Times Union also told the story of Bennerman, who's one of the top basketball players in Siena history, but was never a College alumnus. Until now...
Doremus Bennerman '22 scored 33 points in a win over Tulane back in 1994 to lead Siena into the quarterfinal round of the NIT. The game was played in MVP Arena just four years after the building had opened as Knickerbocker Arena. Bennerman hadn't been back since, until he crossed the Commencement stage, and at 49 years old, fulfilled a promise to his mom. The Times Union (right) covered the homecoming.
"Siena was great, being patient with me and helping me to get the courses that I needed and then I just had to work."
SIENA ON TELEVISION/RADIO
Martin Luther King III was awarded an honorary degree from the College on May 3 and during his speech on "Strengthening the Bonds of Racial Justice," King issued a challenge to the student body: "Please accept the challenge of becoming a peacemaker." As News10 ABC noted in its coverage, King also discussed the importance of voting rights and the power of the vote.
It's a job-seeker's market and recent Siena alumni are taking full advantage. Spectrum News used Scott Leggio '22 to prove the point. Alicia Pepe, assist. VP for experiential learning and career development, points out in the piece that many Saints have had multiple offers. "So, they're trying to really decide between the best job offers."
NewsChannel 13's Ashley Miller points out that Siena women's lacrosse has a loyal pack of followers. And by "pack," she's referring to golden retrievers. Head Coach Abby Rehfuss and two of her assistant coaches, Danielle Tetreault and Tara Prosak, all broke their pact not to own dogs. They now have a happy litter of honorary mascots named Boomer, Koda, and Ziggy.
SIENA IN PRINT/ONLINE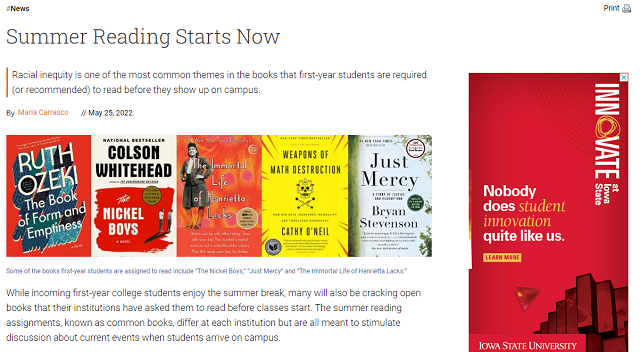 SIENA ALUMNI TRACKER
"You can't believe how much joy there is in cookies."
Jake Hill '09 was in high school when his sister, Julia Leigh Hill, died from injuries sustained in a car accident. Hill's mother, Sidney Moonchild, said that day "changed the molecules in my being, and it took two years of crying to get past it." Moonchild would eventually feel joy again, with Jake's help. In fact, there's joy, she says, in every cookie she bakes. Those cookies are packaged and sold, and a nod to Julia is printed on reach label.
Hill saw an Instagram post about two women who started their own cookie company at the start of the pandemic and he showed the post to his mom, who responded, "I want to do that!" Together, mom and son started the Oh Gee Cookie Company, which recently got some good press from the Tompkins Weekly, a paper covering their hometown of Groton, NY. Moonchild describes the name of their company.
"Jake was 20 months younger than my daughter, and Jake could never say her name, so he always called her 'Gee,' and it stuck. We all called her that. We wanted to honor her somehow with the name of the company."
After graduating from Siena, Hill worked in the College's alumni office for 11 years before leaving last summer for a photography job with Immersion Factory. He also manages marketing, the online store, social media, and business development for Oh Gee, while his mom takes care of the baking and the shipping. The company name, beyond honoring Julia, is also a reference to the hip-hop genre, says Hill.
"'OG' is an urban term for gangster or older guy in the gang - someone who's been through it all. So the naming process took on a life of its own between that and honoring Gee."
All of the cookies have a hip-hop inspired name, including the 6pac Shakur - a six-cookie variety box. What are their other featured items? Find out at ohgeecookie.square.site.
FROM THE SPORTS PAGE
The Siena men's basketball team recently signed an incoming freshman from Ireland. Basketball is not a particularly popular sport in Ireland, which is why news of Killian Gribben's Division I scholarship made headlines on both sides of the Atlantic.
The Times Union headline notes that Siena adds a recruit from Ireland. The Donegal Democrat, a twice-weekly paper covering County Donegal in Ireland, shared through its breaking news site, donegallive, that a local man earned a basketball scholarship in the U.S. Both articles are telling the story of Gribben from different perspectives.
Gribben, who recently turned 19, played for Ireland's 18-and-under national team and averaged nearly 17 points per game in last summer's U18 European Championships in Slovakia. This past academic year, he attended a prep school in Wallingford, Conn. Gribben estimates that between 20 and 30 student athletes from Ireland are currently playing basketball in the United States.
"I think it's a big deal not only for the family, but my whole town and my country," Gribben told the Times Union. "Whenever somebody comes over to the Saints from Ireland, it's a huge deal for the country."
Gribben grew up in Letterkenny, the largest town in Donegal, which is Ireland's most northern county. For the paper back home, Gribben spoke glowingly of his new school.
"It was pretty much everything I wanted from a school, the course I wanted to do, but most importantly, they had the basketball and the facilities, and the coaching staff was just unreal. I thought it was the perfect fit for me."
Siena athletics announced the news of Gribben's arrival as well. Head Coach Carmen Maciariello said of his Irish import:
"Killian is a cerebral, high IQ, skilled forward/center. He has the ability to stretch the floor, as well as score on the block. He comes from a program and a coach in Drew Dawson who has the same mindset and values that we have here at Siena."
ACCORDING TO THE SIENA COLLEGE POLL
...it will be a very busy summer and fall for the Siena College Research Institute.
SCRI is working with major media partners in the lead-up to the mid-term elections this November. The Institute will be polling New York state and other important races across the country. The surveys will be asking voters about issues that are part of the current national discourse, and the results will be published throughout the country, beginning later this summer.
SCRI also will be conducting the Index of Consumer Sentiment this month. The institute is measuring people's willingness to spend on big-ticket items like major home improvements, technology, furniture, and vehicles against a backdrop of rising food and fuel prices. The study has been conducted for over two decades, and this summer's responses will be measured against answers given during the economic downturn in 2008.
FROM COAST TO COAST
The Siena Heat Map tracks Siena College mentions in the news all across the country. Throughout May, there were more than 1,400 Siena mentions coast-to-coast, including...
The coast-to-coast odyssey of the Bleacher Brothers.
Br. Tito Serrano, associate campus minister, and Fr. Casey Cole are visiting all 30 MLB ballparks this summer, covering 17,000 miles over 11 weeks. They're spreading the Franciscan spirit in every park and town, and in Cincinnati, the Reds rolled out the red carpet.
Br. Tito and Fr. Casey met with manager David Bell before the game, and Spectrum News Ohio was on the field for the introduction. The friars were also up close for batting practice and toured the Reds Hall of Fame. Then, when the game started, they mingled with fans to fulfill the promise of their trip.
"We want to talk about our faith," Br. Tito said. "We want to talk about the gospel life and we wanna talk about it in a way that's welcoming to people."
Why ballparks? Fr. Casey explains.
"We were told that Saint Francis of Assisi didn't go to the churches. He went to the city streets, the marketplaces. He spoke a language that people can understand, so we thought 'Why don't we do the same thing? That's our charism. Why not go to baseball stadiums?'"
The trip started in Miami and will end in Colorado on July 30. You can follow along with the Bleacher Brothers on Fr. Cole's YouTube channel.
The Catholic News Service is among the media outlets covering the Bleacher Brothers evangelization tour.
As the article notes, Fr. Casey and Br. Tito "met in their second week of formation and bonded over their love of baseball and their Franciscan vocations." It took eight years of planning to make the road trip a reality.
"I really just want people to know that if they see us, come up and talk to us. That's why we're there. We're going to be in our habits the whole time so that we can be visible. Let's chat and let's have an encounter."
Br. Tito Serrano, associate campus minister