NAVIGATE TO:
Brazilian grads return to siena
Two members of the Class of 2020 made the long trip from Brazil for a very short walk across the Times Union Center stage, but nothing would have kept them from their "movie" moment
Ana Luisa Schlingmann '20 moved back home to Brazil in 2020 and started her career working in the family business. Joao Juk '20 started his own construction business in Brazil. They both officially graduated, virtually, in May of last year, but the pandemic robbed them of the traditional American commencement (cap, gown, mortar boards flung into the air). So, when the College arranged for the Class of 2020 to commence in person, Ana and Joao booked their flights, and Spectrum News 1 was waiting when they made their way back to campus.
"This is like the moment we see in the movies and everything we see about American culture, we see this moment. I think we're kind of like, 'yeah, we did it!'"
Ana Luisa Schlingmann '20
Ana and Joao completed a dual degree program affiliated with Siena's long standing partner in Curitiba, Brazil, FAE Centro Universitario. They studied in Brazil for three years, then finished the program over a year and a half at Siena. It's an experience that made all the difference, academically and personally.
"Working with different people, from different environments and backgrounds, all this knowledge from Siena really helps."
Joao Juk '20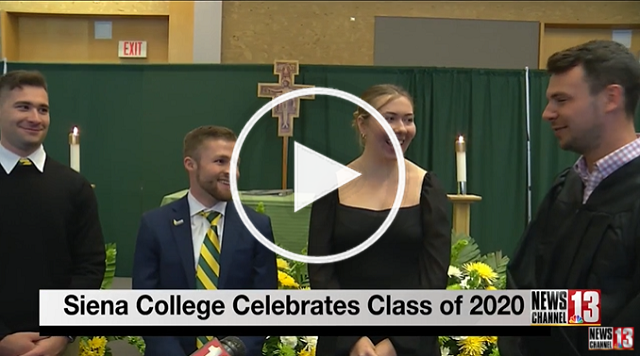 NewsChannel 13 told the story of Siena's overdue Class of 2020 commencement through the eyes of four American friends, above: Devon Hebert '20, Zach Brimmer '20, Michaela Flatley '20, and John Cogan '20
"It's just so good to be back around having fun, genuinely seeing everyone. There's been a lot of hugging and a lot of tears of joy seeing friends too."
Devon Hebert '20 (above, left)
"I didn't expect it to be so emotional, but it really was and it's just like that's what Siena is."
Michaela Flatley '20 (above, 2nd from right)
SIENA ON TELEVISION/RADIO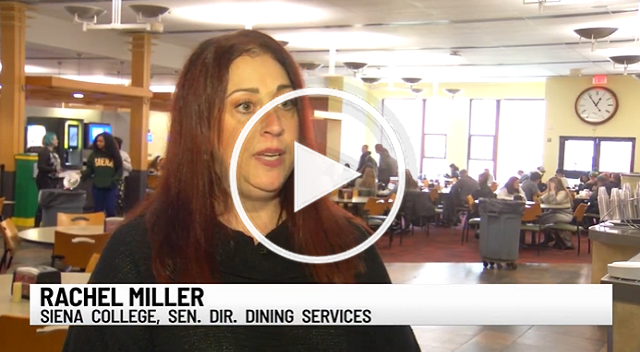 An estimated 30 to 40 percent of the overall food supply becomes waste. Add up all the scraps, and that's 133 billion pounds of food added to landfills each year. But it's not coming from Siena. News10 ABC spoke with Rachel Miller, director of Siena Fresh. She noted that Siena will donate leftovers and composts the rest. "People are hungry, and if they can use the food, we should get it to them."
Emma Farrell '26 lived out a childhood dream and NewsChannel 13 captured the moment. The Voorheesville High School soccer star has wanted to attend Siena since she was six and made her commitment to the Saints official during a Siena-branded letter of intent signing. Emma's father, Tim Farrell, is Siena's assistant director of major gifts.
Members of the Adirondack Thunder hockey team visited campus to hand out free tickets and express their appreciation. News10 ABC was rolling was hockey players met with Siena ROTC cadets and gave out free tickets to Military Appreciation Night. The tickets were donated by area businesses as part of the team's "Seats for Service" program.
SIENA IN PRINT/ONLINE
Todd Snyder, associate professor of English, watched Mike Tyson fights with his dad as a kid, but he watched Tyson "through the lens of his relationship with Tupac, who was my hero." In his new book, Beat Boxing, Snyder explores the intersection of his two passions, boxing and hip hop. The Undefeated, an ESPN-owned website, sat down with the author for a Q&A.
Krysta Dennis, Ph.D., producer of creative arts and certified sommelier says the Siena College Beverage Institute grows students' "appreciation of life's finer things, like a good glass of wine." The Times Union profiled the institute, including its founders and Zoom-based origins. The author and food writer likens the Institute to a "silken glass of sherry."
In the accounting world, competing firms are battling for the best and brightest graduating from elite accounting programs like Siena's. UHY Advisors believes name recognition is key to recruitment, hence the newly dubbed UHY Center. Howard Foote '74, managing partner of UHY's Albany Office, and Siena graduate, talked recruitment and Siena with the Albany Business Review.
SIENA ALUMNI TRACKER
Jenifer Prouty Hoffman '04 was recently named Vermont's 2021 Realtor of the Year. The Manchester Journal highlighted the accomplishment, and also referenced - with a purpose - Hoffman's undergraduate senior thesis at Siena.
Hoffman titled her thesis "Brown vs. Board of Education: A Multi-Faceted Look at the Landmark Decision and the Three Men Who Made It Happen." The thesis won several awards, and it's also an indicator of Hoffman's lifelong advocacy for diversity and inclusion. It's partly why she's so revered by her peers and the recent winner of the Vermont Association of Realtors highest honor. Steve Stettler, 2021 board president of the South Central Vermont Board of Realtors, said of Hoffman:
"As [the board's] 2020 president, she guided us through the uncharted COVID territory with intelligence, passion and class, all while building a house and opening her own firm. She repeatedly steps up to the plate when needed and honors all of us by representing the highest values of a Realtor."
Those values, which have inspired numerous volunteer roles within the community, were seeded at Siena, below.
"Siena's Franciscan values have greatly influenced my character and career. Love and service are the foundation of my relationships. Education - for myself, clients and colleagues - is a top priority, so I'm always searching for ways to enhance my own knowledge and share it with others. When people know more, they can make better decisions.
I serve my community and industry with passion, and am deeply humbled to be in a position of leadership. Siena encouraged my personal development, balancing the need for self-care with the relentless pursuit of my goals, and that combination has shaped me into who I am today."
Jenifer Prouty Hoffman '04
FROM THE SPORTS PAGE
Coach Carmen Maciariello '01 introduced a new member of the men's basketball team this month, a 17-year-old super fan named Evan Franz
Evan's name appears on the team roster, right underneath Jackson Stormo. He has his bio on the team website as well. But, instead of basketball accolades, the biography details a heroic fight with brain cancer.
News10 ABC told the story of Evan's relationship with Siena basketball. The longtime fan was diagnosed with Stage 4 brain cancer in May of 2019. Through Play It Forward 518, a local non-profit organization run by former team manager Joe Watroba '13 and his family, Evan served as an honorary captain for a game. This year, coach Maciariello formalized their relationship by making Evan an honorary member of the team.
"He embodies everything that we want in our players. He's still fighting, and that's why we want him around our group."
Carmen Maciariello '01
Evan (below, middle) will sit directly behind the team bench for every home game he's able to attend.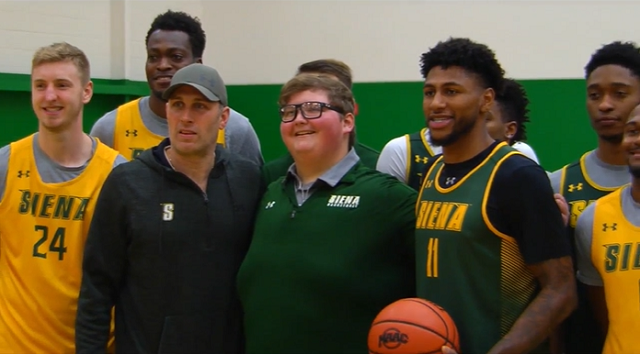 "It's really crazy to think that I'm part of the team. I'm ready to see those Siena Saints kick some you know what!"
Evan Franz, Siena basketball
ACCORDING TO A SIENA COLLEGE POLL...
...half of New Yorkers will do half of their holiday shopping online, but brick and mortar stores don't need to panic.
During the second week of November, the Siena College Research Institute inquired about the holiday spending plans of nearly 800 New Yorkers. Outlets throughout the Northeast reported on different findings within the results. WXXI in Rochester noted that 70 percent of respondents plan to shop at local independent stores and a similar percentage will buy gifts at chain stores this season. X101 in Homer, NY reported on SCRI's finding that 70 percent of New Yorkers are shopping earlier this season than usual, and Rivertowns Daily Voice pointed out that only 17 percent of New Yorkers are planning to spend more this holiday season than one year ago.
FROM COAST TO COAST
The Siena Heat Map tracks Siena College mentions in the news all across the country. In the past month, there have been more than 600 Siena mentions coast-to-coast (including SCRI and athletics coverage). Including...
The "shot doctor" spends all his time with patients at the University of Maryland. But before he was a "doctor," Matt Brady played ball for Siena in the mid-80s.
In a piece written for the Baltimore Sun and picked up by Yahoo! News, Maryland basketball player Eric Ayala compares his assistant coach to Mr. Miyagi from 1984's "The Karate Kid." Ayala goes on to explain that Matt Brady '87 put his players through "weird mechanics" similar to Mr. Miyagi's unconventional approach to karate. Does it work? According to Ayala, "He changed my college basketball career."
Brady played college basketball for Siena from 1983 to 1987 and before landing on the Maryland coaching staff, he was an assistant at Saint Joseph's in 2004 when the Hawks went undefeated in the regular season. That year, a columnist for the Philadelphia Inquirer called Brady the "shot doctor" and the name stuck. Brady's been with Maryland since 2017, and his players believe the moniker is spot-on.
"The shot doctor is the right word for him. He sits there. He watches your jump shot for the first week, and then right after that week he gets right into trying to fix it."
Fatts Russell, Maryland graduate transfer point guard
Brady is Siena's all-time leader in three-point percentage (.469). He was inducted into the Siena Athletics Hall of Fame in 1993.